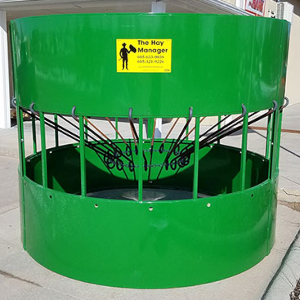 Put the Waist on Your Cow, Not on the Ground
For over 17 years, The Hay Manager has been innovating and improving hay management tools for the farming industry. Besides manufacturing round bale feeders, they also provide mineral feeders, tools for pasture improvements and services for farmers and ranchers – custom designs or ideas that farmers need to fit their operation across the midwest.
Hay Saving – A proven outstanding efficiency. Saving your hay, estimated to save 10% more hay per bale.
Durable – 18 years of testing. Built with a heavy 14 gauge metal-steel sheet that will last.
High Capacity – Handles any size bale with its 6ft-8ft diameter. The strength can handle all weights.
High ROI – 100% ROI of one year with five or more animals, fewer than 100 days with 30 head of cattle.
Economical – Competitively priced with other cone style feeders. Feeders are durable, like your feed bunks.