Get ultimate control of anhydrous ammonia application
Sutton Irrigation is your source for Hiniker NH3 Anhydrous Equipment. From heat exchangers, to flow controllers to Speed Sensors, we can put together the entire package for you. Come and see us and we can talk about how we can help your with your anhyrdrous application needs.
---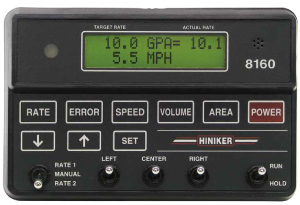 Hiniker 8160 Console & GPS Speed Sensor
Get ultimate control of anhydrous ammonia application with the Hiniker model 8160 control system. Components are also available to connect to John Deere and Agleader precision farming systems. Our kits come standard with 30 gpm heat exchanger 1 1/4 inch stainless steel servo valve and 1 1/4 inch stainless steel flowmeter. All manufactured by Hiniker Company.
Combined with heat exchanger, provides accurate measurement and control of NH3.
Back-lit liquid crystal display (LCD). Easy to read day or night.
7 Functions: View two at once.
Controls up to 3 boom sections using electric ball valves or solenoid valves.
Audible and visual alarms. Alerts the operator to unacceptable application errors.
Dual automatic rate settings.
Plug compatible with model 8150, 8100, and Spray Commander controllers.
Automatic speed calibration! Just drive 500 feet and push the button.
Simulated speed feature! Makes it easy to calibrate your sprayer without leaving the yard.
Minimum flow feature! Keeps the nozzles from losing spray pattern when traveling below recommended speeds.
RS232 Communications port. Applications include variable rate input and transmitting data for as-applied mapping.
---
System Components
GPS Ground Speed Sensor
Simple magnetic mount
WAAS enabled
Two LED's indicate satellite lock and pulse output
Accuracy immune to ground clutter or vibration
Second output emulates radar signal for an additional monitor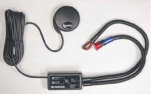 Heat Exchanger
The Hiniker Heat Exchanger is used for anhydrous ammonia applications. The Heat Exchanger condenses vapor into a liquid, allowing accurate measurement and control.

Servo Valve 1 Inch Stainless Steel
General purpose 1″ servo valve – High quality stainless steel electric butterfly valve does the actual controlling of the application rate. This valve can be mounted in-line or in a return line to the tank.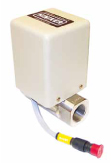 HM860 Flowmeter
The HM860 is a precision stainless steel general purpose flowmeter. It is recommended for herbicides, insecticides, liquid fertilizer and anhydrous ammonia. The operating range is 3 to 70 gallons per minute. Maximum pressure is 400 psi. Other flowmeters are available for low application rates.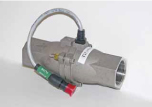 Hub Plate Distance Sensor
The Hub Plate Sensor works on all implement wheels or non-driven tractor wheels. Plates for four, five, six and eight bolt wheels are available. Optional radar interface modules are available to connect the tractor radar system to the 8160 Controller.