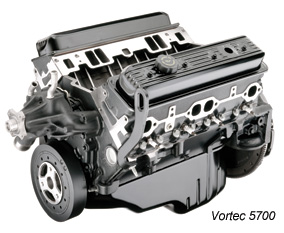 General Motors Corporation
Sutton Irrigation has a full line of GM Vortec Industrial Engines (3.0L – 5.7 liter) for industrial applications. We offer 4, 6, and 8-cylinder spark-ignited engines for a variety of uses – all backed by GM's reputation of power, reliability and fuel efficiency. GM Vortec Industrial Engines are specially designed to accept gaseous fuels, such as natural gas and LPG – a valuable benefit for those interested in alternative and flex-fuels.
GM Vortec engines have been specifically designed to provide quieter operation, outstanding emission control, optimal fuel efficiency, and minimal vibration. The same power and technology that drives some of the most popular vehicles on the road is put to use in a wide variety of industrial and marine applications. The experienced team at Sutton Irrigation can help you find the right industrial engine for your needs. And our comprehensive parts department can keep your investment up and running long after delivery. When you purchase your GM Vortec Engine from Sutton Irrigation, you can rest assured that you have made a wise investment in a quality product from a a company with a commitment to you, our customer.
For more information on our GM Engines and Products, visit the GM Powertrain website.
Below you'll find valuable information about our GM Vortec Industrial Engines. Downloadable spec sheets provide additional information for comparison. If you have questions, or need additional information, please contact us.
---
GM Vortec Industrial Engines
| Model | Rated Speed (RPM) | Displacement L / cu in. | # of Cylinders | Aspiration | Continuous HP Rating | PDF File |
| --- | --- | --- | --- | --- | --- | --- |
| 3000 | 1584-2600 | 3.0 | 4 | Natural | 17-32 | Spec Sheet |
| 4300 | 1584-2346 | 4.3 | 6 | Natural | 40-61 | Spec Sheet |
| 5700 | 1594-2346 | 5.7 | 8 | Natural | 55-81 | Spec Sheet |