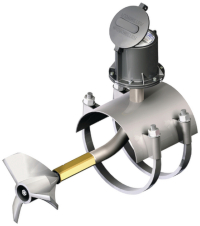 Agricultural and turf irrigators operate in difficult environments with extreme climates where water flow measurement can be the difference between profit or loss. Choosing the right irrigation flow meter doesn't need to be complicated. With 60+ years of experience in agricultural irrigation, McCrometer provides reliable and low maintenance flow meter solutions to meet this industry's tough requirements.
Flow Matters… to All of Us
In any irrigation network, water meters are a critical tool for irrigators. With many different choices, choosing the ideal flow meter for your application is vital. Whether you're looking for greater control, easy installation, accuracy, billing solutions, consistent irrigation schedules or improved water quality, there are a number of solutions from which to choose.
Mc Propeller: Affordable, easy to install and operate, easy to service in the field, long-life components. The best-selling propeller meter in the U.S. Trusted by irrigators since 1955.
FlowConnect: Built in remote meter reading for collecting and transmitting flow data from McCrometer's Mc® Propeller and Water Specialties propeller meters.
Dura Mag: Battery powered flanged mag meter with a 5 year battery life eliminates the need for AC power and arrives pre-calibrated with an internal datalogger with 5 years of data storage, and telemetry-ready output options.
FS100 Flow Straightener: Uses breakthrough flow straightening technology for highly accurate, reliable flow measurement with minimal upstream/downstream pipe runs requirements.